The Book Revisited - page 2
Since selection comes before breeding and you are known as one of the top graders in the sport today, is there anything you would like to say about selecting?
The ability to select pigeons is pretty important in this sport, as it is critical to helping the fancier start off with the right pigeons. A lot of people don't know this, but when Ed Lorenz first came into the sport, he had Piet de Weerd grade his pigeons. Within that group, Piet picked out four pigeons that he thought were good enough to build a family around. Coincidently, one of those four pigeons came from Paul Tansey. These four pigeons were the basis for Ed's original Stassart family that propelled Ed to greatness in the '70s and early '80s. That is what a good selector can do for you. The problem of course is that while there are a lot of fanciers that profess to be selectors/graders, there are very few good ones anywhere in the world.
While some fanciers know their own pigeons well, they tend to think this knowledge transfers from their pigeons to other pigeons in their area or even other pigeons in other areas. I remember a story where a very good fancier from Canada visited the San Fernando Valley and somehow ended up grading Ed Lorenz's pigeons. At the end of the grading, this fancier's only comment was that Ed didn't have enough back-wing on his pigeons. Again, this fancier was from Canada, and he flew on a heavy headwind course. Ed races on one of the faster courses in the United States. The point is that what works in one place doesn't usually work that well in another place.
For the most part, graders break down into two different groups. There are those that base their grading on those traits that have won on their course, and there are those that base their grading on quality traits that are common to great pigeons. For the most part, selectors that race are better at selecting pigeons that win on their course while selectors that do not race are better at selecting on traits common amongst good pigeons. Probably without a good understanding of both approaches, one shouldn't be too adamant in their opinions of other people's pigeons.
Note from the Website Manager: When we think of grading pigeons, we immediately think of the former world renounced grader Piet de Weerd. Although he is gone now, he left us with the idea that it is certainly possible to tell a great deal from a pigeon's physical traits. Although his skills were highly refined, if he could successfully grade pigeons by their physical traits then it is at least possible that others might be able to do so as well. We all know fanciers that claim to be able to grade pigeons, but throughout the world, only a handful of these have become reputable enough to do so professionally. Book has proven to be one of them.
When Book and I agreed to resume the idea of a second interview on the subject of selection and breeding, I asked him if we could include a similar write-up to the one contributed by Steve Zammit in the first interview. Because of Book's highly successful grading trips to Holland and Belgium, and because these countries are considered to be the Mecca of our sport, I asked if this write-up might come from someone there. To paraphrase an old Frank Sinatra song, my thinking was that if Book could make it there then he could make it anywhere.

The following was written by the well known Dutch fancier and author, Marcel Gortzen: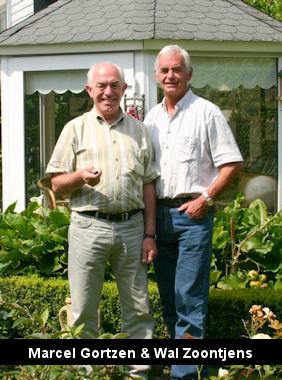 My name is Marcel Görtzen and I live in the city of Kerkrade, in the South-Limburg province of the Netherlands. I raced pigeons from 1960 to 2004 in the Roderland combine of the Limburg Federation. Today, my pigeon activities have been reduced to the breeding aspect of the sport, and I now send many of my youngsters to others to be raced.
In 1986, I became a reporter of the pigeon journal, "Limburgse Reisduif" and later a reporter for the national pigeon magazine, "NPOrgaan". In 2005, I began writing loft reports, articles and Webb logs for the Internet Pigeon Magazine "Winning". During that period, I started reading some very interesting articles that were being written in Winning Magazine by the very popular author Bill "The Book" Richardson. His articles were based on his own philosophies and practical experiences, and they covered a wide variety of subjects associated with our sport. In those years, Book's articles, especially those translated to Dutch, were very well read in both Holland and Belgium. Even though it has been a while since Book last wrote anything that reached the European audience directly, his name still comes up quite often over here and many Europeans still regularly visit his website.
When I discontinued racing, I focused my efforts on breeding methods and general pigeon genetics. In 1993, I began obtaining a family of pigeons from the well-known Dutch fancier Wal Zoontjens (Riel, North-Brabant, Netherlands), and through line and inbreeding, I have since built them into my own little family. I quickly found Book's articles to be very valuable in broadening my knowledge of breeding techniques. When it comes to genetics, many experts in the field tend to either complicate the subject or talk down to you. Book's approach to breeding is amazingly practical and it is based on his line breeding and inbreeding experiences with his pigeons.
In 2005, Book gave a number of seminars in Holland and Belgium. This had never been done by anyone outside of our country before, and I think most fanciers here had no idea what to expect. However, all of these seminars were extremely well attended. The seminar that Wal and I attended began at 7:00 pm and ended at 12:30 am and, even on a weeknight, his seminar was so captivating that not one person left the room, even at that late hour. Although I was unable to attend any of his grading sessions, many said that he was the best since the late Piet de Weerd, and that included many that had known Piet personally.
In 2008, I began writing e-mails to Book with questions on the subject of breeding. As time passed, I sent him a few pictures of my pigeons and loft for him to look at. Unexpectedly, he wrote me back and told me about my pigeons in such detail and with such accuracy that I wasn't sure what to make of it. I told Wal Zoontjens about this experience, and we decided to send him pictures of a number of Wal's breeders. Again, Book had no trouble identifying Wal's top pigeons, with the exception of one, which was producing well for Wal at the time. When Book was questioned about his view of this pigeon, he said that based on the pictures of Wal's other pigeons, this pigeon was too fast for the course and would eventually lead to losses in the long-term. In fact, at the time, the weather had changed on our course and the races had become faster than usual. When I told Book that the races were just faster today, he said, "There are decades behind Wal's old family. When Nature is finished playing around, the speeds will return to normal. Then what?" Shortly thereafter, and in reference to the subject, Book wrote a very interesting article about Nature's systematic cyclical testing entitled "Cyclical Event Testing."
As Book predicted, the speeds have come back to normal with a number of tougher races mixed in for good measure and, with this change, this particular line of Wal's pigeons have seen far more than their share of losses. Within a very short period of a couple of years, they have become but a memory in the Zoontjens family. Book made these calls with no knowledge of the pigeons in the picture, and when given knowledge to the contrary, he never waivered in his view. Wal recently told me, "I don't know how Book can see these things from just a picture, but it is clear that his abilities are unusual and this makes him a good friend to have on your side."
Book has since explained a few of his picture grading techniques, and I must say that his attention to detail is nothing short of astounding. Where most of us see feathers, he sees bumps and shapes that are even difficult to find even when he is explaining them to you, but none-the-less they are there. I have since been incorporating what I have learned, and it has helped to significantly improve the prize percentage in my pigeons. In 2009, my pigeons were in the prizes 60% of the time against an average of 1000 pigeons entered.
Over the years, Book has been known to help close friends in different ways, some with racing, and some with breeding. I feel very fortunate and proud to be one of Book's students and through our many emails and phone conversations, I have learned a great deal from him and about him. He does not give answers away; instead, he helps you solve problems yourself. He points you in a direction and then asks you questions about what you have learned. Even when you think you have studied something until it can be studied no more, he will still surprise you with even more detail. In fact, we have been talking about one simple bone in the pigeon's anatomy for several weeks now. I know from experience that when I have finished exploring this simple topic in every way, he will ask the daunting question, "So, why is it that way." I have come to learn that there seems no end to even the smallest detail. Book likes to say, "Learning to learn is the step before learning itself."
As a reporter, I get to handle many of the great champions in our and neighboring combines. Most of the pictures that I send Book are of better pigeons from better lofts. However, recently I asked for his opinion on a highly decorated pigeon from a somewhat average loft. In the return email Book told me a story about a pigeon that he had graded in Denmark for a rather average fancier a couple of years back.
While grading this fancier's pigeons, Book told the fancier that while he had a number of good hens, his cocks were not very good and that this was hurting his performances. Several pigeons later, Book came across a great cock and upon announcing this fact, a hush came over the room. After a few seconds of silence, the fancier told Book that the pigeon was a stray. The fanciers in the room waited for Book to change his call but, instead, Book only said, "Then the best pigeon in your loft is a stray and unless something amazing happens today, the best pigeon in the club is probably going to be a stray (there were close to 600 pigeons at this grading) and since you say it is a stray, you should feel fortunate that you didn't have to pay for the pigeon." A few pigeons later, Book came across another cock that was just as good as the first cock and, he proclaimed it as such, only this time he said, "Not only is this cock just as good as the stray cock, it is a race champion and most likely the son to the stray."
Again, those in attendance became very quiet, and the bewildered owner said, "It is the combine champion, and it is the son of the stray." As a side note, the next day, when a fancier accompanying Book tried to recount this story to another fancier from the area, the second fancier waived his hands and said, "There is no need to tell that story here, as it has already spread throughout the combine."
Book then said, "Now Marcel, this pigeon in the picture you sent me is almost a copy of the stray and its son that I graded in Denmark and, if this pigeon raced, I would expect it to have been every bit as successful as the son to the stray." Based on the above, the reader already knows this to be the case! Book went on to encourage me to buy this pigeon because he said it was going to be an equally good breeder. Unfortunately, even if this fancier was willing to sell this wonderful pigeon at a price I could afford, I could not have brought myself to buy this fancier's only great pigeon.
For many years, I have had the good fortune to live in a location at the very heart of this sport and through my writing, I have had the opportunity to meet many of its greatest fanciers. Yet, ten years ago, if anyone had told me that at some point I would be learning so many amazing things, I would never have believed that it would have been from someone outside of Holland, Belgium, or even Europe. Throughout my many wonderful years in this sport, I have never heard mention of many of the things that Book talks about on a regular basis. Even when some of these topics have been discussed by others, the level of detail is sadly lacking compared to what Book brings to the conversation.
I once asked Book how he was able to develop so many new and unique concepts in a sport where so many great fanciers have come before him. He thought for a while and then said, "I guess it is because I think backwards to everyone else, so it is easier for me to see things in ways others do not." At the time, I didn't understand what he was saying. However, months later, he was helping me work out a problem over the phone, and I was having trouble finding an answer. Eventually, he said, "You have tried to answer this through conventional thinking, now try to answer the problem by thinking backwards." When I didn't understand, he explained how he would have gone about the problem and, as he said, his approach was completely backwards to the way most would have attempted to solve the problem. Throughout the rest of the conversation he quickly proved to me the advantages of thinking backwards, but I have to admit that while I understood how his methods work, it made my mind tired in a way your eyes get tired when you try to read without your glasses, so I may be working on this approach for a while. Certainly, his approach to solving problems is unique.
As I have gone on longer than intended, let me close by saying that while I have met many of the greatest fanciers in the European sport over the last 40 years, none have demonstrated Book's breadth or depth of knowledge. In my opinion, the American sport should be honored to have Bill "The Book" Richardson amongst his ranks as, were he located here, he would certainly walk amongst the elite of the European sport.

Marcel Gortzen
Jeff Mawbey
Mid Island Racing Pigeon Association

Duncan , BC V9L 2M5

Phone: 250-748-3417