Mid Island Racing Pigeon Association
The Mid-Island Racing Pigeon Association was formed in 1993 and was known as the Ladysmith Club, since most of the participants were from that area. The charter members were Al Ward, George Tanner, Sid Cooper and Doug Chadwick.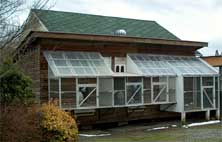 For the first year they cooperated with the Capital City Club of Victoria and then switched to the North Road Club in Vancouver. The latter club was re-organized in 1994 and the Ladysmith fliers had to change again. This time they joined with the Vancouver Island Racing Pigeon Association and stayed with them for three years until once again joining the Capital City Club. Over the last few years the club has grown and at present has twenty members. The name has changed to reflect the wider participation and the club is now the largest on Vancouver Island.
Jeff Mawbey
Mid Island Racing Pigeon Association

Duncan , BC V9L 2M5

Phone: 250-748-3417