Larry Holbrook's Art Gallery (Click on any image below to enlarge.)



These birds show the type I prefer as dual-purpose for both showing and racing.
---

This is a painting of a Norwich Cropper I did for a fancier. It is stylized to fit the standard. I prefer to paint a more natural pose.
---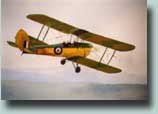 I liked this type of flying. This is an impression of my first solo flight in a Tiger Moth in 1942 at Elementary Flying School, Denham, England. I remember singing loudly with sheer joy on this flight. I was eighteeen years old and on my way to becoming a glider-pilot with the British Army, flying mostly Horsas.
---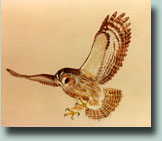 I like owls! I wouldn't see this one in my area; it's a Tawny Owl from Europe. Along with some other boys, I used to monitor a Tawny Owl's nest in Britain to prevent the young from being taken as pets.
---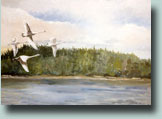 This is a view from the loft I had when we lived on Mayne Island, B.C. Each year I would see a group of swans flying down Navy Channel.
---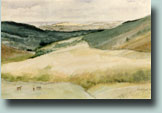 Wouldn't it be great to have a loft here? You'd be able to see the returning race birds for miles. This is a picture I painted when we were on holiday in Wales. I think they are known as The Black Hills.
Mr. Andy Loudon
Mid Island Racing Pigeon Association

Qualicum Beach , BC V9K 2L7

Phone: 250-268-8571